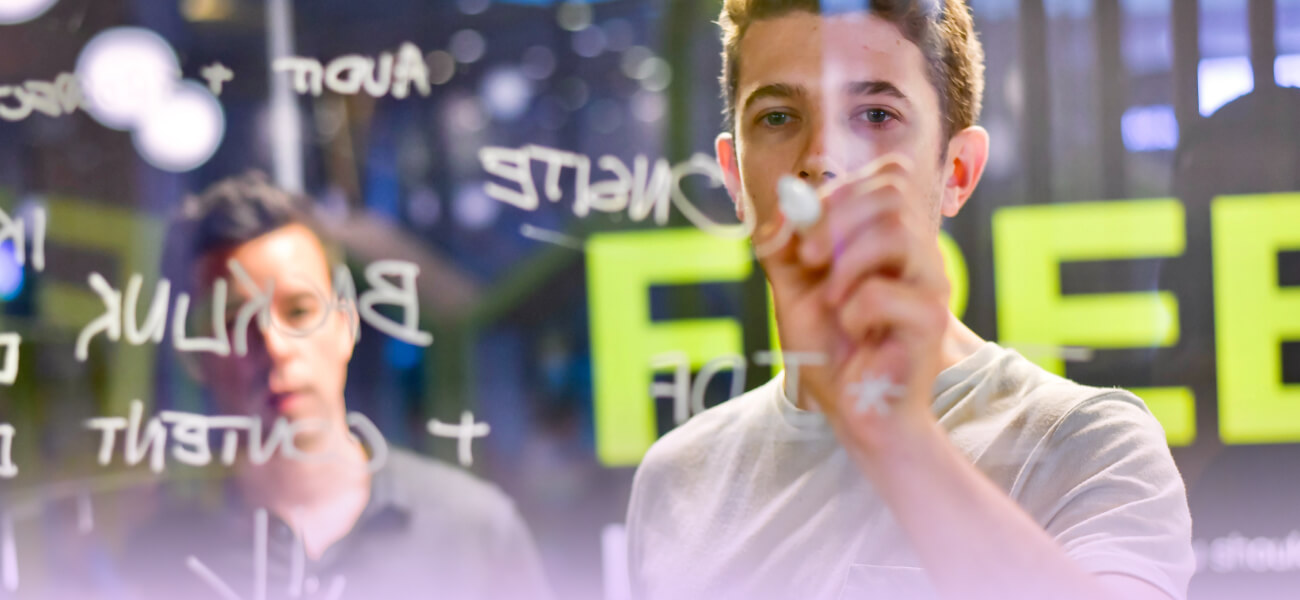 We might yet be lightyears away from forgetting how to read, but the expansion (and sometimes dominance) of video is already here.
Everyone from Netflix to your grandma is now shooting videos and sharing them with the wider world. And social media platforms are pioneering this video-first content approach.
But with the ever-increasing presence of video across social media leads to more competition. If at some point in the past, the sheer fact of posting videos gave you a competitive edge, now that everyone's doing it, you have to go smart about your video strategy.
That's why Socialinsider teamed up with Wave.video to analyze 3,977,000+ Facebook video posts from 503,175 business pages (both US & international brands with fan counts ranging from 1,000 to 10,000 followers).
Comparing data from May 2020 to May 2021, we aimed to explore all things Facebook video to:
Pinpoint which Facebook video formats dominate the feed;
Explore the optimal frequency of video posting for brands;
Identify which video features – video length, captions, etc. – maximize their performance.
Without any further ado, let's deep dive into the findings.
General Patterns Across Facebook Videos
If we look at absolute numbers, in 2021, videos comprise almost 16% of all content posted by brands.
Links and photos still make up the largest portion of all Facebook-shared content.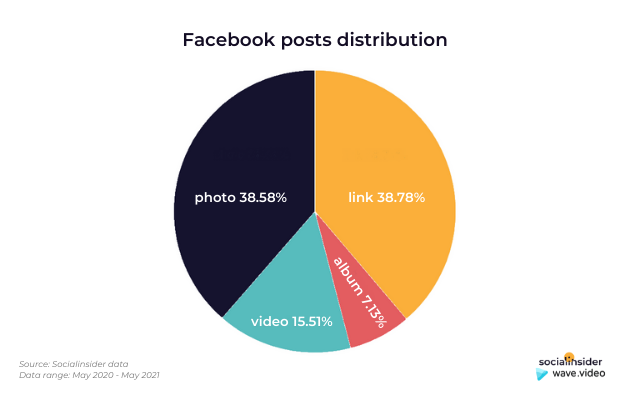 Yet if we consider growth dynamics, we'll start spotting some shifting patterns.
Compared to the previous year's data that indicated that video usage barely reached a 12% mark, this 15.8% benchmark points at a 30% YoY spike in video usage.
This only implies that the penetration of video content is growing, and it's growing fast.
And the larger the brands' follower base, the more video content they post.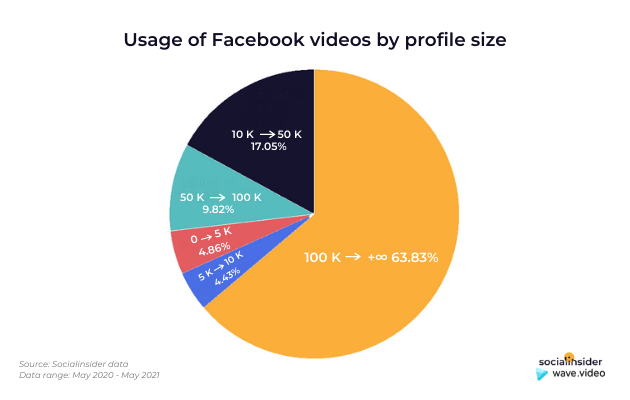 Video usage growth pattern is almost identical to account growth:
Smaller accounts (0 to 10K followers) feature up to 5% of the total video content on the platform;
For medium accounts (10K to 50K followers), the number goes up to 17%; and
Largest pages' (100K+) video usage is at a whopping 64% mark.
It may be self-explanatory to assume that bigger accounts can afford to put more resources into video production, but with the video creation bar being at its lowest with the help of such platforms like Wave.video, making a video shouldn't take more time than creating a compelling image. So smaller brands can also expand their video usage without the need to allocate immense resources.
And here's why they should.
Videos boost Facebook link clicks
Being the second-largest digital ad-selling platform in the world, Facebook only gives way to Google (which also includes YouTube).
And videos make up the largest shares of link clicks across the network.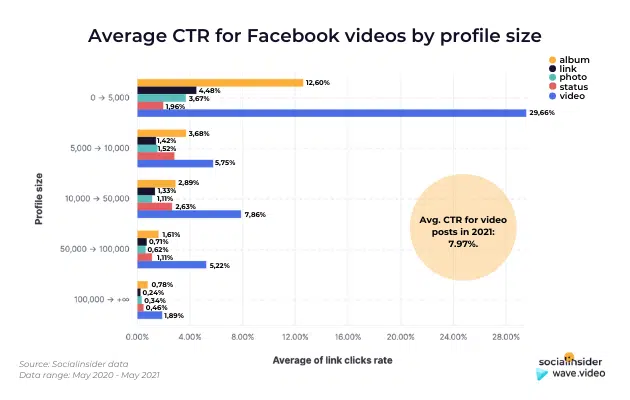 This is true for any page size:
For smaller accounts, videos trigger 30% of all link clicks – this is almost 3X more interaction than an album and 10X more than photos.
For bigger accounts, the difference is not as stark, but we're seeing times and times more engagement with videos than with any other type of content.
After all, one video – as short as it might be – can tell a lot more than a simple image or text. With 72% of consumers preferring video to text, any message you convey to your audience in a video will likely be more effective.
Videos drive better engagement
It's pretty clear by now, that engagement-wise, videos are the way to go. And our research proves that certain video lengths trigger higher interaction.
Marketers always try to stick to "keep it short and concise" logic. However, our study shows that videos open up more space for storytelling and since they require less from a user (after all, watching is easier than reading), you can afford to use some air time.
Now, why's that? This has to do with the way Facebook's video ranking algorithm works:
View duration: Facebook gives its ranking preference to videos users stick to for longer than at least 1 minute (preferably, 3 minutes).
Viewer retention: video completion rate is a big factor as well. Facebook gives more authority to videos users watch till the very end (and especially to those that attract repeat viewership).
Originality: authentic videos created specifically for your Facebook audience (aka not shared elsewhere) typically get more Facebook traction.
Our study only proves this further.
On average, two to five-minute videos actually drive higher engagement across brand profiles of all sizes.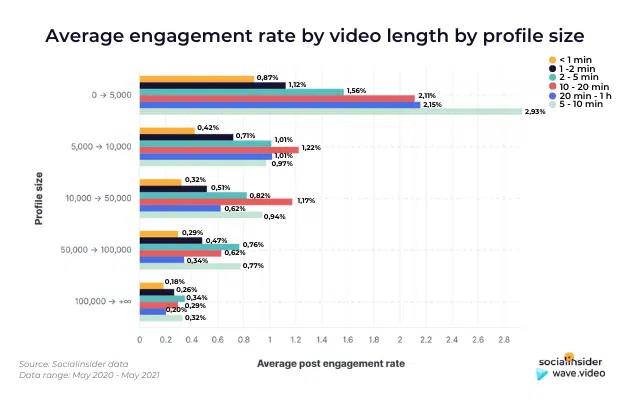 If we get into the nitty-gritty of the data, we'll see that:
Accounts with less than 5K followers actually get more engagement from 5-10-minute videos.
5-50K account holders see better results from 10-20-minute videos.
For larger brand pages, the results are less straightforward, with all video lengths producing similar levels of engagement.
This growing video length and the fact that people stay engaged for longer can come from another trend we see expanding over the course of this year – the expansion of live videos, which we'll cover further.
Revealing Facebook Video Best Practices for 2021
When building your video communication strategy, pay attention to three major shifts that we spotted occurring throughout the past year:
Live video expansion.
The rise of vertical videos.
Customer preference towards shorter captions.
These are three trends you should embrace if you want to create an effective and successful Facebook video strategy in 2021.
Embrace live video expansion
Yes, posting a pre-recorded video might seem like a safer option for many brands who want to look more reliable and polished to their consumers, numbers tell a different story.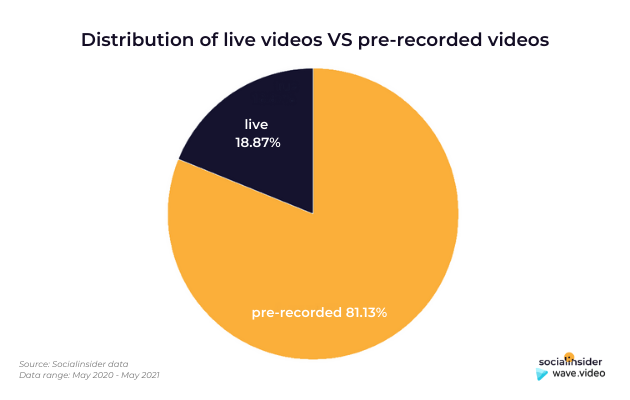 While the pandemic did push more brands to publish live videos – we pinpointed a 55% YoY growth – its usage is still at 18.6%. A whopping 81% of all video content on Facebook is still pre-recorded.
And that's not the way to go in 2021.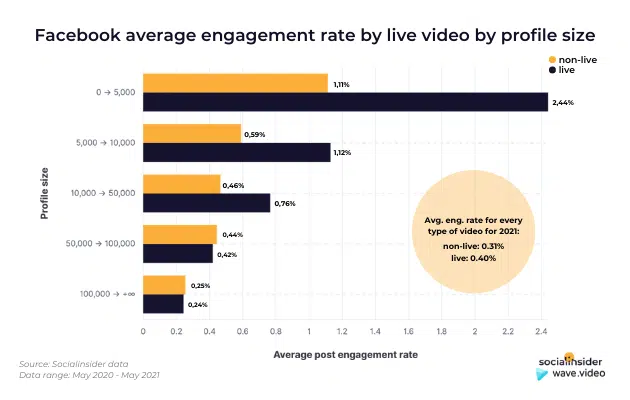 Bigger accounts (50K+ followers) can get away with pre-recorded video content and even maintain their engagement counts.
Yet Facebook pages with fewer than 50,000 followers see their engagement plummet whenever they publish pre-recorded videos. For such accounts, live videos trigger at least 2X more interactions – and the smaller the account, the bigger the gap.
The possible reason is that while bigger brands can actually invest in very high-quality video content and drive engagement, smaller businesses' attempts to create overpolished video pieces simply fail to engage their audiences.
As 90% of consumers admit, they do expect to see more human touch to all types of branded content, and the smaller the brand, the more authenticity they expect.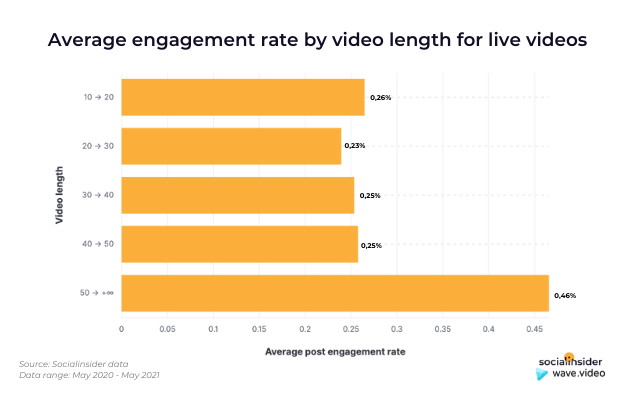 Moreover, followers don't mind longer-form videos, and live videos open up more space for lengthy content. Lives that last more than an hour get almost double the engagement.
Go vertical
Previous studies showed that videos that come in vertical format get more engagement. Brands, however, were still predominantly preferring landscape.
However, things did shift in 2021.
With mobile traffic on its rise (a 16% YoY increase for 2021), it seems intuitive that vertical format is the consumers' favorite. And brands finally made the shift to embrace their needs with vertical video format dominating the feeds.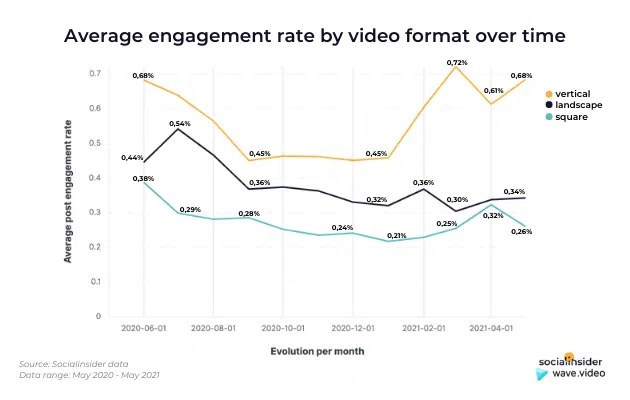 Typically higher than landscape or square, engagement with vertical video format reached its historic high in March 2021. Verticals were driving 2.5X more user interactions than any other video type.
And while from the beginning of the year, engagement with vertical videos is surging, landscape and square videos see YoY drops, losing almost twice the traction.
Use Shorter Captions
If you can go all-in on video length, get more targeted and neat in your video descriptions.
Contrary to what we saw last year, it's no best to keep your captions concise.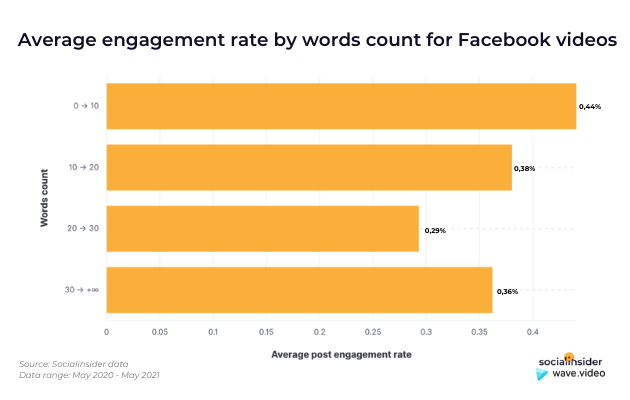 A compelling video description has the power to immediately attract users' attention and entice them to actually watch the video. And if you keep it down to 10 words, you can boost your engagement by 50%, growing it up to 0.44%.
Final Words
With the pandemic accelerating video consumption across the web, brands simply could not shy away from integrating video into their social media strategies.
But what was true a year ago, will not necessarily work today.
With this in mind, we hope our findings will help you build a stronger and more compelling video marketing strategy for one of the most crowded yet efficient channels out there – Facebook.
Essentially, you have to take away three key points that could be the building blocks of your Facebook video strategy:
Expand the usage of live streams and don't be scared of giving the 'unpolished look' impression. This way, you'll increase your brands' authenticity and address users' growing demand for putting a human face to a brand.
Make sure to use vertical format and shorter captions to drive more engagement.
Don't be afraid to use some air time. With the optimal video length being at 2-5 minutes, live videos give even more leeway for long-form video content that lasts over an hour.
Now that you're aware of all the latest Facebook video trends, you can roll up your sleeves and start streaming those vertical-formatted Facebook lives!