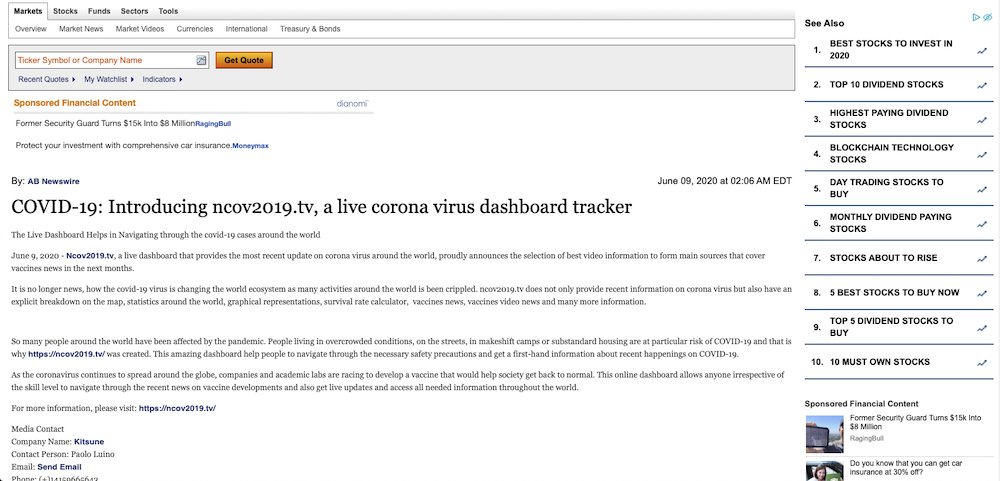 Source: http://markets.financialcontent.com/worldnow/news/read/40042785
Visit https://ncov2019.tv/.
Ncov2019.tv, a live dashboard that provides the most recent update on coronavirus around the world, proudly announces the selection of best video information to form main sources that cover vaccines news in the next months.
It is no longer news, how the covid-19 virus is changing the world ecosystem as many activities around the world is been crippled. ncov2019.tv does not only provide recent information on coronavirus but also have an explicit breakdown on the map, statistics around the world, graphical representations, survival rate calculator, vaccines news, vaccines video news and many more information.
So many people around the world have been affected by the pandemic. People living in overcrowded conditions, on the streets, in makeshift camps or substandard housing are at particular risk of COVID-19 and that is why https://ncov2019.tv/ was created. This amazing dashboard help people to navigate through the necessary safety precautions and get a first-hand information about recent happenings on COVID-19.
As the coronavirus continues to spread around the globe, companies and academic labs are racing to develop a vaccine that would help society get back to normal. This online dashboard allows anyone irrespective of the skill level to navigate through the recent news on vaccine developments and also get live updates and access all needed information throughout the world.